With Roger Moss & William Brown.
So here she is, The Venus of Blaengwynfi loosely plundered by the Celtic tribes – even the Romans had their goddesses. Mother, Sister, "female", the eternal – all these things if you know where to look. From Shelagh 'n Gigh to Rhiannon to Venus herself, the fetish exists. At once ugly and beautiful she remains a timeless emblem. Her greatest gift is the plough and furrow – Mary herself, all ears. A diet of worms or cockles but like the little effigy in Austria she crops up. Why shouldn't Wales have one as well! Hallowed, hollowed, holy, fecund, this is the original "it" girl."

William Brown. May 2008
Several years before his death, artist William Brown proposed a three artist exhibition exploring the theme of Venus. William had for some years, prompted by his "discovery" of a small carved votive figure, in a cave in a hill above the village of Blaengwynfi, produced paintings and prints on the theme. This subject predates written history from the Palaeolithic period to the present day. Images of Venus are to be found in all cultures and from all periods of human activity. Venus is the first Icon and aspects of Venus find themselves reflected and re-interpreted, in Pagan and Christian iconography and referenced in contemporary life. This exhibition consists of mainly new work produced by Roger Moss and Keith Bayliss in mixed media constructions, mixed media and graphite drawings – large and small scale and cast metal pieces together with paintings and prints by William Brown on the theme of The Venus of Blaengwynfi.

The work was first exhibited at Oriel Q in Narbeth in 2018 and a year later shown at Llantarnam Grange Arts Centre in Cwmbran.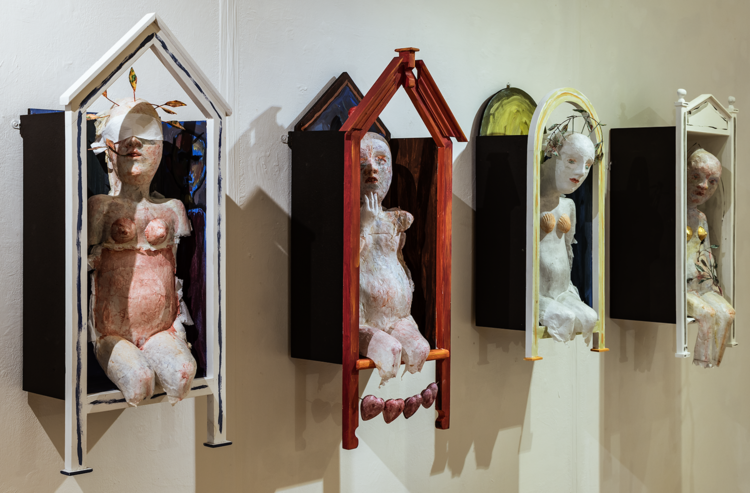 "We can thank the artist William Brown for this exhibition, or at least for the insistence that we – Roger Moss and Keith Bayliss – accept equal lumps of wax, through the post and fashion them into a Venus of our own making. In the mind of William there would then be, at least, three contemporary Venus' in Wales. Although the story changed with each telling, William insisted that a Welsh Venus, to rival the Venus of Willendorf, had been unearthed in the hills above Blaengwynfi. This Venus then started to populate his prints drawings and paintings, adding another character to his repertoire of mythical creatures.

William died ten years ago (2008). The three Venus' remained as wax effigies, uncast and waiting to be realised. We continued to toy with the idea of Venus and to endeavour to make an exhibition in which we three artists could at last explore the idea of "Venus" and come together again to share our discoveries. This exhibition is the outcome".

Roger Moss & Keith Bayliss 2018