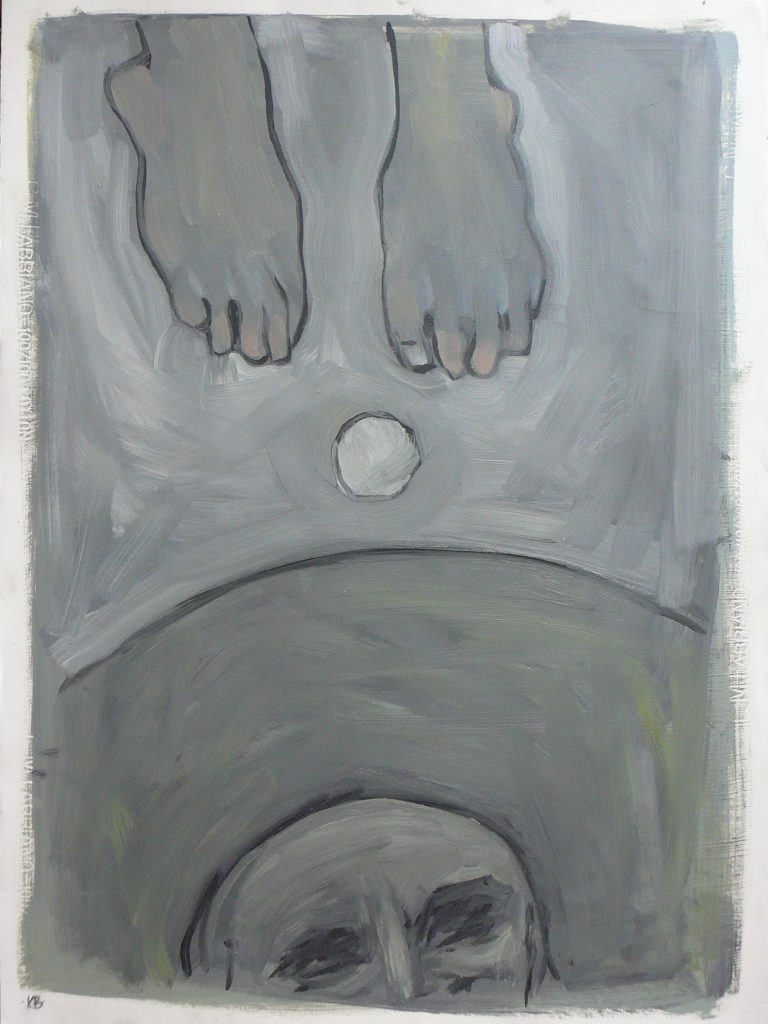 Keith Bayliss' work is figurative and expressive – his motif, the human figure in the landscape. He works in a variety of mediums: pencil and ink on paper, oil on canvas, relief printing and more recently, small mixed media sculptural constructions.
In his painting he often works on a large scale, with figures almost life size. They inhabit a simple setting; the curve of a hill or a moon occasionally appear but are frequently inhabiting undefined or unrecognisable places. His protagonists are single or in pairs, sometimes interacting, sometimes moving in opposite directions with a bird or animal as companion in this private, intimate, interplay within space.
His work is allegorical, influenced by myths, folklore and biblical tales. Alongside his illustrations for many books and poems, he has made images that reference the Annunciation, Hortus Conclusus, Susanna and the Elders, his paintings often populated with angels and pink skinned cherubs. For his 2018 site responsive exhibition at MoMA in Machynlleth, he used the title of a Goya etching from the Disasters of War series: Yo lo fi ( I saw this). Using the poetry of Lorca and the imagery of Goya as a starting point, it is a personal visual response to influences and situations that are currently at play in his life/the world. His work will often incorporate a sound element produced by the artist's son the musician Joe Bayliss, now on their third collaboration.
Keith resists giving explanations for the he produces. For him the work in itself develops over time: "I start with an idea but as time passes, the work dictates how, when and if, it has reached a conclusion. It is a dialogue between myself and the developing visual image. I am just the facilitator. The work 're-makes' itself with each new visitor it encounters and the story changes. You the observer complete the work."
Keith Bayliss is a visual artist, born and based in Swansea, South Wales. For over a decade he worked in a psychiatric hospital, followed by a role as Community Arts Officer based at the Glynn Vivian Art Gallery & Museum. Since 1991, as a freelance artist and arts educator, he has taught at all levels from primary school to adult learner. Throughout this time he has continued to make art, collaborate widely with poets and writers, while regularly exhibiting, facilitating and curating projects in Wales and Europe.
DOWNLOADS