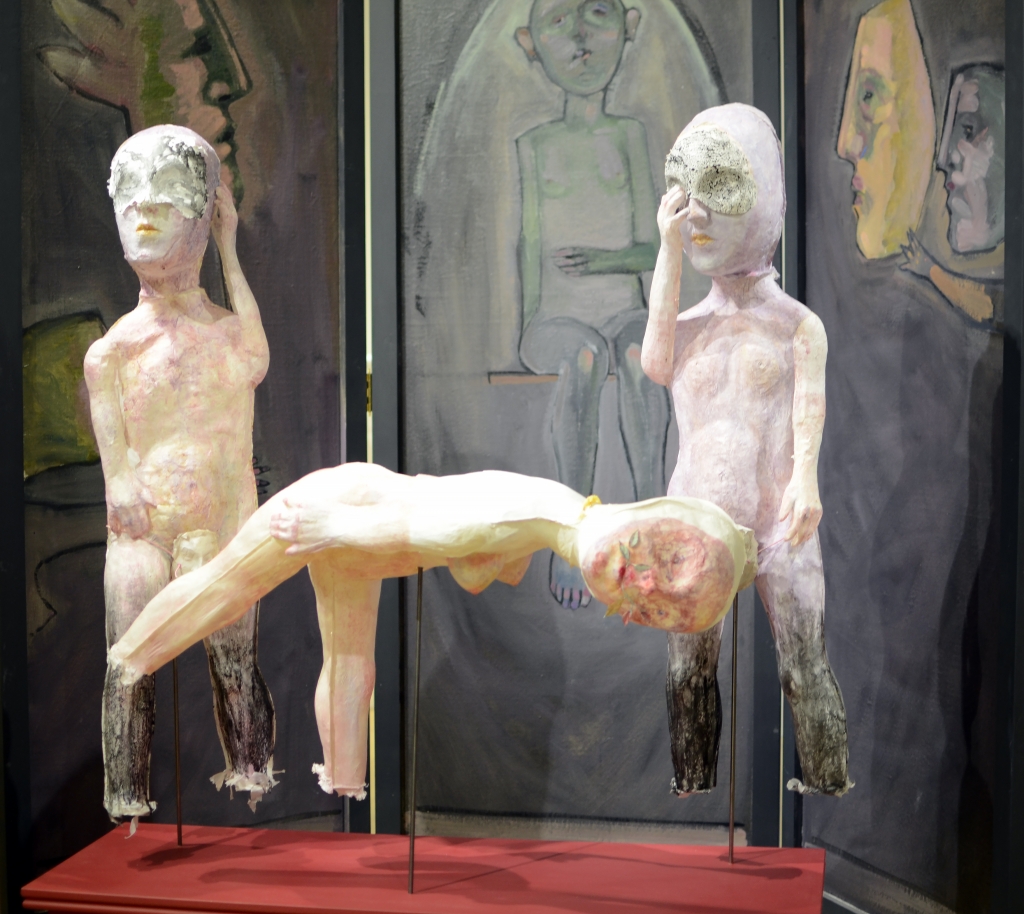 Oriel Q, Narbeth: January 2016.

This subject has fascinated artists for centuries – the story is an old and sadly continuing one. Aspects of its drama are enacted in some form each day with sometimes tragic consequences. A painting titled 'Swsana', produced many years ago by the artist was the starting point for this exhibition. The above image is of the three main protagonists in the story, Swsana and the two elders, made as half life-size figures in a self-contained environment or enclosure, created from wooden screens painted with seated and falling figures. One wall of the gallery was peopled with nine small boxed faces – 'angels' or 'visitor/watchers' – each witness to the drama unfolding. On plinths three pairs of winged feet, maybe the souls of the three participants? All works were mixed media with the bodies of the figures in tissue paper. In a separate room was a "Shrine".

"Nothing is new. The same stories persist. We are human and fallible. We love, need, lie and deceive. Susanna and the Elders is a subject visited by many artists over the centuries. I have known her since I began looking at art, since I was a child. My Swsana is a Welsh beauty and she is an innocent. The story is as old as mankind but it is also painfully contemporary and can take many forms. It is a story that reveals the worst in us, that which is tragic and destructive. It is a story also of the triumph of truth over lie."

Keith Bayliss, 2016
With thanks to: Lynne Crompton at Oriel Q, Narberth; Sally Moss for the 'In Conversation'; Amanda Roderick, Director of Mission Gallery Swansea, for opening the show; Joe Bayliss for his soundscape collaboration and closing event performance with poet David Thomas; Rhian Stone for her translation into Welsh and Mathew Otten for additional photography.